Bead Artist Creates Chinggis Khan-Inspired Wedding Purse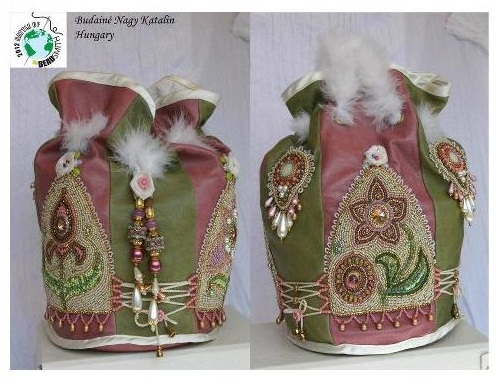 This year Helby Import, a beading supply company in Carteret, New Jersey, held its first international Battle of the Beadsmiths. Eighty highly talented bead artists from around the world were invited to design and submit their unique creations to the contest using beads, metal findings, stones, etc. A beader from Budapest, Hungary, Ms. Katalin Budainé Nagy, created 'Ghengis Khan's Wedding Purse – A gift for the Beloved.'

Ms. Nagy studied world history in school and was very interested learning about Chinggis Khan and how he and his sons created and then expanded their empire. She has not been to Mongolia, nor is she of Mongolian heritage; however, the moment she added feathers to the purse, it just seemed clear to her that it was meant to be a wedding purse for Genghis Khan to give to his bride.

She began the process by sewing together two colors of leather for the purse body. Ms. Nagy then embellished the leather with a variety of seed beads, pearls, crystals, Swarovski Rivoli stones and feathers. To complete her contest entry, she lined the purse with fabric and beaded the ends of the purse drawstrings. In total, 80 hours were required for Katalin to complete her contest entry. A beautiful tribute to Chinggis Khan!

Article contributed by Jeanne Evans

~ * ~

On the Move in Mongolia: An Audio Documentary by Shebana Coelho

Shebana Coelho is a writer and documentary producer. Her work has been broadcast on National Public Radio, BBC Radio Four, American Public Television and the Discovery Channel. She received a 2007 Fulbright Research Fellowship to Mongolia. In this audio documentary, she writes about her experience in Mongolia:

"There I was, an Indian woman on the move in a strange new land - Mongolia - and it didn't feel so strange. So much resonated - especially the voices of other women - like Monjago, a nomadic herder, Munkhtsetseg, a horse trainer, Onika, a student, Amgalan, a language teacher and Jainaa, a singer. They made faraway feel like home."

To listen to "On the Move in Mongolia" and see photos, please visit here. 

Credits & Details for the Documentary
Running time: 22 minutes
Producer/Researcher: Shebana Coelho
Sounds collected on a Fulbright research fellowship.
Produced for: Outer Voices
Story Consultant: Stephanie Guyer-Stevens
Additional Translations: Munkhzul Dorjsuren, Oyu Choijamts, Delgerjargal Uvsh
Post-production funding by:
The Lucius and Eva Eastman Fund and The Shelley and Donald Rubin Foundation
Please visit Shebana Coelho's site for additional info.